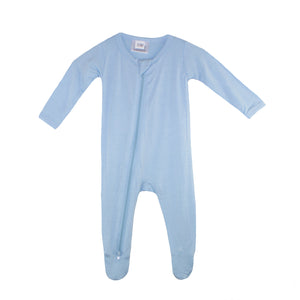 Our zipper onesies are beautifully lightweight and breathable, with the perfect amount of stretch! 
We've added a double zipper to make this baby fashion item a functional dream for quick diaper and wardrobe changes. So not only are our onesies adorable, they're super functional and make parents' lives much easier.
We've also made our onesies in a variety of luscious colors, you'll want to have them all for your sweet little one. With matching top knot hats and stretchy bow headbands, your baby will be cozy, comfortable and cute as can be!
Care Instructions: Machine wash cold with like colors. To keep your Presley Couture items looking their best, lay flat or hang dry.
Materials: Rayon/ Spandex Blend
Sizes
Newborn - covered footies and hand covers
0-3 Months - covered footies
3-6 Months - covered footies
6-12 Months - cuffed bottom no footies
12-18 Months - cuffed bottom no footies
18-24 Months - cuffed bottom no footies