We love helping little girls feel beautiful, confident and comfortable. Whether she's getting ready for a day of make-believe play or on her way to her first day of school, we prioritize curating clothing to help her feel absolutely fearless. Everyone feels better when they love what they're wearing, and we believe in making clothing items that help your little girl to embrace confidence without breaking the bank!
Find the perfect balance of cute and comfort in our line of everyday girls' clothing. With items ranging from flutter sleeve tops to butter-soft twirl dresses to adorable jumpsuits, you'll find everything you need to fill a girl's wardrobe with essentials that prove to be both stylish and comfortable. Whether you're looking for the perfect items for back to school or needing a few items as your little girl grows, our selection of everyday items provide the perfect variety of cute and comfortable clothing.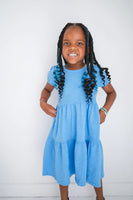 Twirl Dresses
Presley Couture exclusive! These super soft and comfortable twirl dresses come in almost every color of the rainbow and are perfect for a variety of occasions from play and casual to special occasions!
Did I mention they have POCKETS?!
Shop Twirl Dresses
Princess Dresses
Take playtime to the next level with our character dresses; based on all of her favorite figures from beloved stories and shows, your special lady will be transported into her own enchanting world of make-believe. Made from high-quality and incredibly comfortable materials, she will want to spend all of her time in these adorable princess dresses. Looking for something to complete the look? These mouse ears are the perfect accessory to top off her playtime ensemble or magical adventure.
Shop All Princess Dresses